Robin Bayley
In 2004, after over fifteen years of telling corporate stories in the advertising and television industries, Robin began to tell his own stories. He followed his muse to write a book, The Mango Orchard, which was published in several languages and to critical acclaim around the world. Following the success of the book, he was commissioned to write a film screenplay, worked in journalism and began working with other writers to help them tell their stories.
The idea for Wedding Speech Guru came about when a best man – Paul – asked for Robin's help the night before a friend's wedding. Having been best man five times in the past, Robin understood the pressure Paul was under; he had a long speech – mainly culled from joke websites – scribbled on numerous sheets of A4, and a sense of impending doom. It was clear that Paul had written the speech he thought he should write, rather than one that came from the heart. Robin asked Paul to talk about the groom and how they had become friends. Paul told a string of fabulous stories – hilarious and touching – none of which had been included in the draft. Using these stories, they put the speech together and then rehearsed and rehearsed until Paul felt confident. At the reception the next evening, Paul delivered a brilliant speech, astounding everyone, not least himself.
Increasingly, friends and then friends of friends started to ask Robin to help them with their speeches. He found he loved helping people discover their voice and make speeches that they never believed themselves capable of.
This is the belief on which Wedding Speech Guru is founded; that everyone has stories to tell, and the ability to tell them brilliantly.
In addition to helping people with their wedding speeches, Robin is a storytelling and public speaking trainer, and a leadership coach 
***
In 2009, whilst working on his book, Robin met editor and fellow-writer Jojo Thomas. They have been friends and collaborators ever since, sharing a passion for the art of storytelling, and a firm belief in the importance of self-expression. One of the projects on which they work together is the storytelling event, the Story Party. In 2016, Jojo joined Wedding Speech Guru as an associate coach.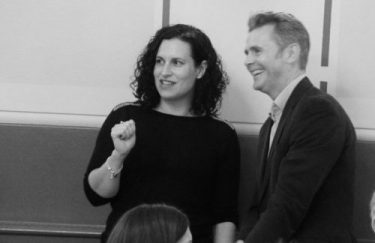 Jojo Thomas 
Jojo worked in the city for ten years, as a business editor and team leader, before following her dream of helping people live happier lives by training as a Co-Active coach. As someone who had always written and performed her own material – writing plays, poems, and stories since she was a young girl – Jojo is passionate about helping others to unlock their confidence and creativity, and have fun in the process! As well as coaching, Jojo runs regular creative writing workshops, and co-facilitates storytelling evenings in London. She even crops up on the London stand-up comedy circuit occasionally, and has a keen sense of how to bring humour and fun to a speech.
Also a qualified hypnotherapist, Jojo can help even the most nervous speakers find their voice and access the stories they want to tell.
The next step for wedding speech help
Book your free telephone consultation the contact form, get in touch via email, or just give us a call. Together we will assess your needs and make a plan
email – robin@weddingspeechguru.co.uk
phone – +44 (0)7985919856  or +44 (0)7816 087 325