The purpose of the best man's speech
Before looking at the structure of the speech, it's worth considering what purpose it has and what it's supposed to achieve.
The biggest fear of many best men is not standing up in front of a hundred people at the reception – although that's certainly up there – it's not knowing what on earth they are going to say when they do. This is because very often they're unsure about what's expected of them.
Many assume that their job is to assassinate the character of the groom. This is not why you have been chosen to be best man. The main purpose of your speech is to commend your friend to the guests. This doesn't mean, of course, that you can't point out his foibles and eccentricities, or even embarrass him a little – that's what friends do – but the speech, like the day itself, is all about love. Remember that half of the wedding guests may well not know the groom very well. The bride's family and friends want to know who their loved one has just married, and why they should be excited for her. Once wedding guests see that your speech is coming from a place of love and respect, they are much more likely to respond with cheers and laughter.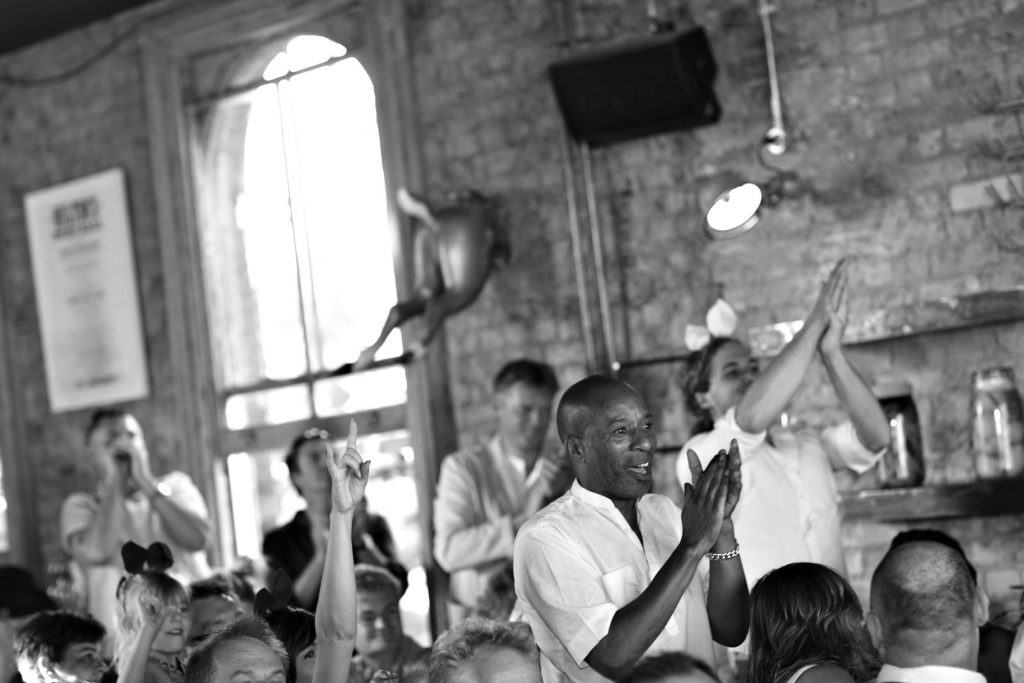 The best man speech template
To help you gather material, here's a FIVE-STAGE, along with some questions you should be asking yourself.
1. Introduce yourself and your relationship with the groom
This section could be as short as one or two sentences. It's merely to set the audience's GPS, so they know who you are in relation to the groom and to establish that you are well qualified to talk about him.
How did you first meet the groom?
What were your first impressions?
What did you first notice about him, and why?
What was he doing? What did he say?
2. Talk about the groom – what makes him who he is
This is usually 70-80% of the speech, in which you use your privileged position as the groom's closest friend to share with the guests your insights in to what make the groom tick. The most successful best man speeches are the ones that get to the truth of who the groom is. The biggest laughs are usually laughs of recognition when you have managed to hit upon a character trait or behaviour and tell a story to illustrate the point that the audience can recognise.
What's he like, both physically and as a character? List five words that best describe him
What nicknames has he had – now and when he was growing up?
What are his defining habits?
What particularly daft pieces of advice has he given you?
What are his most common catch-phrases?
What makes you proud to call him your friend?
3. How the bride has made has made a (positive) difference to his life
The tale of boy-meets-girl is the one story that everyone in the audience wants to know. It's a story that the other speakers may well have told. But how did it look from your point of view?
What did he say to you after first meeting her?
Do you know of any cock-ups along the way? Did he embarrass himself in front of her family or friends? Did he say anything stupid on an early date?
What clinched the deal – for him or her?
How did you see your friend change?
4. Conclusion: what a great couple they make
Why is the bride the perfect partner for your friend?
What does it mean to you that they have got married?
What does it means to you to be best man at your best mate's wedding?
5. Propose a toast
You've already made the speech, so keep it simple, along the lines of "Laura and Kevin!" or "the gorgeous couple". It needs to be something short that everyone can repeat.
Job done. Now you can enjoy a drink. You've earned it!
The next step
Read more best man speech tips
If you would like some help with the writing, editing or delivery of your best man's speech, book your free telephone consultation on your speech via the contact form, get in touch via email or just give us a call. Together we will assess your needs and make a plan.
email – robin@weddingspeechguru.co.uk
phone – +44 (0)7985919856 or +44 (0)7816 087 325