Whether you are a best man, groom, father of the bride, bride or bridesmaid, the most important stage in creating a great wedding speech is the completion of the first draft.
So, once you have your first draft, and you've had a Chocolate Hobnob to celebrate, what now? Job done?  I'm afraid not. Imagine you are a band preparing for a big tour; this is the bit where you decamp to a remote Welsh farm house to fine tune your set.
Take the first draft and rewrite the speech, paring it down to its core elements. Ask yourself the following questions:
# Are you saying all that needs to be said?
# Are these the best stories? (Not just the funniest, but the most appropriate.
# Do the stories reflect what you want to say about the bride or groom?
# Do they lead from one to another logically?
 
Rewrite it again. Even if you think your speech is nearly there, often rewriting it will help you see how it could be improved. It also helps you to become more familiar with the speech and to commit it to memory.
If you are writing it on a computer, print it out and edit it by pen. And if you have been scribbling your speech on scraps of paper, seeing the words on screen can also help you see things you hadn't seen before.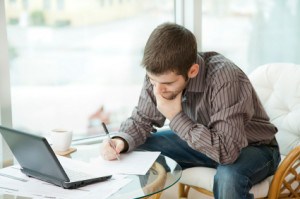 Remember, this is a speech that needs delivered, not read. Get used to the sound of your voice saying the words. When you read it out loud you will probably need to make some more tweaks.
Just like the band holed up in their isolated rehearsal studio, the secret to the success of your speech is practise, practise, practise. This is how bands become great. This is where your wedding speech transforms from being ordinary to become something that the wedding guests will cherish for years to come.
The next step
Book your free telephone consultation on your speech via the contact form, get in touch via email or just give us a call. Together we will assess your needs and make a plan
email – robin@weddingspeechguru.co.uk
phone – +44 (0)7985919856 or +44 (0)7816 087 325