For centuries the sound of a tea spoon being tapped against a wine glass at a wedding reception has signalled the moment when the speeches begin. The father of the bride, followed by the groom, and finally the best man, have cleared their throats, knocked back their drinks and got to their feet.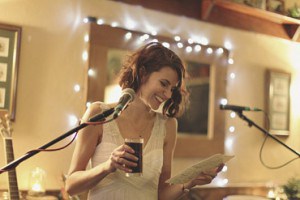 But the closed shop has been broken. It's no longer just the men who have all the fun; more and more brides are coming out from behind the top table and are speaking for themselves.
I am firmly of the opinion that no one, especially the bride – it is your day after all – should speak if they really don't want to. But your wedding reception is a golden opportunity. It will almost certainly be the only time this group of people will ever be gathered in the same room together, and therefore the only chance you'll have to speak to everyone and pay tribute to your husband in your own words.
The rules for making a perfect bride's speech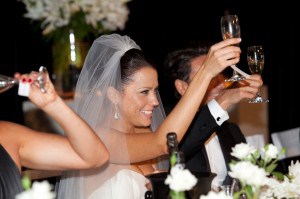 #1 There are no rules. Because there are no set-in-stone customs for the bride's speech it can be anything you want it to be.
#2 Don't wing it. Even if you only plan to say a few words, make sure you have planned, prepared and practised what you want to say.
#3 Keep it brief. Especially if yours is in addition to, rather than instead of one of the other speeches, the shorter it is the greater the impact it will have: less is more.
#4 Tell a story. If you want to say how supportive your parents have been, how great your bridesmaids are and how wonderful your new husband is, tell a story to illustrate each point. It will make what you are trying to say more vivid and memorable.
#5 Be part of the team. Be conscious that there will almost certainly be other speeches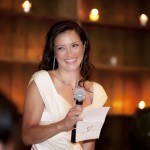 . Try to find out what the other speakers plan to say and make sure there aren't too many over-laps on the thank yous
#6 The day belongs to you. You are the main event, the star attraction… but be gracious about all that everyone has done for you and they'll love you even more.
#8 Talk about the boy. The one story that all the guests want to hear is how you fell for the love of your life.
#9 Enjoy it!
The next step
Book your free telephone consultation on your speech via the contact form, get in touch via email or just give us a call. Together we will assess your needs and make a plan
email – robin@weddingspeechguru.co.uk
phone – +44 (0)7985919856 or +44 (0)7816 087 325